Are you looking for efficient dumpster rental services here in Memphis? If you are, look no further! Memphis Dumpster Rental Bros offers a wide selection of dumpster sizes for all types and scales of waste management projects.
✓ Servicing Memphis for over 20 years
✓ Quick and easy dumpster rental contracts
✓ Fast delivery and pickup
✓ Experienced and friendly staff
✓ Call 901-441-9203 now for a free quote!
✓ Largest inventory of dumpster sizes
✓ Locally owned family business
✓ Customer satisfaction guaranteed!
We always try our best to add value to each and any of our customers and we can provide you with the best customer service there is in Tennessee. After nearly two decades of providing waste disposal services in TN, we have garnered the trust of the Memphis residents, as a local reliable service junk removal provider. We have proven time and time again that we only rent out the best quality rolloff dumpsters in town.
We make it our mission to not only provide high-quality rubbish removal and recycling services but also to ensure that our services exceed what our customers paid for. While you may find other dumpster rental companies boldly overcharging their customers, we stand by the principle that the customers should only pay for what they need, and nothing else.
What kind of waste materials do we accept?
General Wastes – General wastes are the junk that most household and office produce on a regular basis. They include food wastes, scraps of papers, cardboards, boxes or packaging materials. Bottles and jars are also considered as general waste.
Yard Wastes – These wastes are biodegradable and often come from various landscaping projects. Yard wastes include products such as soil, rubble, grass clippings, and other vegetative matters.
Construction and Debris Waste – These types of waste materials come from construction, renovation and demolition of buildings, houses and other structures. Some examples include wood, cement, gravel, rocks, nails, tiles and many more variations.
Recyclables – Memphis Dumpster Rental Bros also accepts all sorts of recyclable materials. These are basically junk items that can be donated, reused, repurposed or recycled in one way or another. You just need to inform us what you are planning to dispose of as recyclables and we will gladly take them from your hands.
Dumpster Sizes Available
Below are the smallest and largest dumpster sizes we offer.
10 Cubic Yard Dumpster

This is the smallest dumpster we can provide and it is a perfect size for smaller projects such as a general cleanup, a single room renovation project or miscellaneous debris collection. Its dimensions are 8 feet wide, 12 feet long and 4 feet tall. It is best used for roof replacements for less than 1,500 square feet of surface, a general yard cleanup project or a small yard landscaping job. This is also perfect for cleaning out a two-vehicle garage, a basement or an attic.
40 Cubic Yard Dumpster
This is the largest dumpster we can rent to you. This is the perfect size for major renovations for an entire home or some office space. It can also fit the construction waste materials from the renovation of multiple commercial units. If you are looking for someone to manage the waste from a full demolition project, hiring a waste management service with a 40 cubic yard dumpster can take care of that for you. The container load capacity fills the equivalent of 12 pick up trucks. Its dimensions are 8 feet wide, 22 feet long and 8 feet tall.
If you need dumpsters bigger than 10 cubic yards or smaller than 40 cubic yards, call us at 901-441-9203 so that we can recommend a perfectly fitting dumpster for your job.
Easy Dumpster Rental Process
Here are additional tips to remember when renting a dumpster from our company.
We offer same day delivery.
We do not have any hidden fees but we will charge extra for overfilled dumpster containers.
We can assist you with local permits if you can only place the dumpster container on a public sidewalk.
Our office is open 7 days a week, and you can call 24 hours a day.
If you have any question, feel free to call us at 901-441-9203 or send us an email.
We are more than happy to help everyone and will answer any question you may have.
Whether you need a roll-off dumpster container for a simple house cleanout, a roofing renovation, a construction project, or catering a landscaping service, we can provide the perfect waste management solution for you here in Memphis, TN and in the surrounding towns.
We do not just offer trash hauling, we also work closely with different recycling plants in the State of Tennessee. Moreover Memphis Dumpster Rental Bros is fully licensed and insured. This means you are protected in the event that something accidentally cause some damage to your property during the hauling process.
Hire Your Rolloff Dumpster Container Today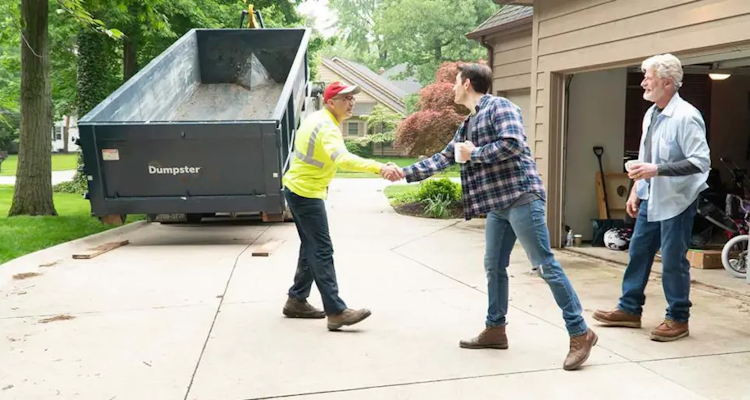 We are the leading dumpster rental company of choice in Memphis. We provide fast, professional and affordable dumpster rentals and we are a family-owned local business with a great reputation within the local community. Give us a call at 901-441-9203 to rent your commercial or residential dumpster today. We will offer a fair price and will even provide you with an estimate for your needs free of charge.
So if you need scheduling a few bins or a roll-off dumpster rental near me to dispose of your refuse, call 901-441-9203 now and all your questions will be answered promptly. It does not matter if it is restaurant litter, metalic objects, backyard debris even trees, old furniture, cabinets or carpet items, bricks and concrete blocks, electronics, domestic appliances, roofing waste, compost or scrap, we will take it all for you. We will recycle what we can and send the rest to the nearest landfill for you.
We Provide Service To the Following Cities in the Memphis area: Arlington, Bartlett, Collierville, Cordova, Covington, Dyersburg, Germantown, Horn Lake, Lakeland, Marion, Millington, Olive Branch, Southaven, Walls, West Memphis.
We can deliver our roll-off containers at these zip codes: 37501, 37544, 38101, 38103, 38104, 38105, 38106, 38107, 38108, 38109, 38111, 38112, 38113, 38114, 38115
✓ Servicing Memphis for over 20 years
✓ Quick and easy dumpster rental contracts
✓ Fast delivery and pickup
✓ Experienced and friendly staff
✓ Call 901-441-9203 now for a free quote!
✓ Largest inventory of dumpster sizes
✓ Locally owned family business
✓ Customer satisfaction guaranteed!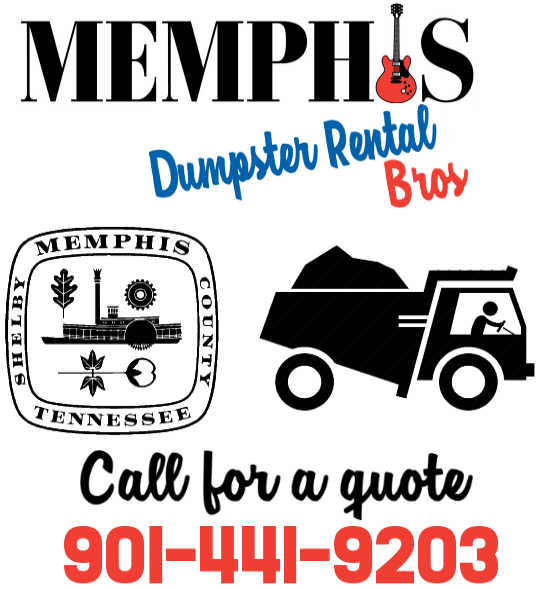 How To Safely Load And Unload A Dumpster
Dumpsters are commonly used for waste management on construction sites, renovation projects, and other industrial settings. However, improper loading and unloading of dumpsters can lead to accidents, injuries, and property damage. It is crucial to follow proper safety procedures to ensure the safe handling of dumpsters.
Preparing for Dumpster Loading
Before loading a dumpster, it is essential to take several preparatory steps to ensure a safe working environment. Here's what you need to do:
Clear the area
Remove any debris, obstacles, or potential hazards from around the dumpster. This includes ensuring there is ample space for the loading process and clear access paths.
Use personal protective equipment (PPE)
Wear appropriate PPE such as gloves, safety goggles, and sturdy footwear to protect yourself from potential injuries, cuts, or falling objects.
Assess the weight limit
Check the weight capacity of the dumpster to avoid overloading. Overfilled dumpsters can be hazardous during transportation and cause spillage or damage to the dumpster itself.
Safe Loading Practices
Proper loading techniques are crucial to maintaining stability and minimizing the risk of accidents. Follow these steps for the safe loading of a dumpster:
Organize waste materials
Segregate waste into different categories, such as wood, metal, plastic, or general debris, and stack them accordingly. This facilitates efficient disposal and reduces the likelihood of injuries during unloading.
Distribute the weight evenly
Place heavier items at the bottom and lighter materials on top. This ensures stability during transportation and prevents the dumpster from tipping over.
Break down large items
Disassemble larger objects, such as furniture or appliances, to maximize space utilization and avoid imbalance. This also reduces the risk of injuries when unloading.
Avoid overfilling the dumpster, as protruding items can pose hazards during transportation. Ensure that all waste materials remain within the boundaries of the dumpster to prevent damage to surrounding structures or injuries to workers.
Use appropriate equipment
Utilize proper tools and equipment, such as wheelbarrows, dollies, or ramps, to facilitate safe loading. This minimizes the risk of strains or back injuries and ensures efficient waste disposal.
Unloading Procedures
Proper unloading practices are equally important to maintain safety during the removal of waste from the worksite. Consider the following guidelines:
Assess the unloading area
Before unloading, survey the area for any potential obstacles or hazards. Ensure there is sufficient space for unloading the dumpster without obstructing traffic or causing damage to nearby structures.
Communicate and coordinate
If multiple workers are involved, establish clear communication and coordination to ensure a smooth unloading process. Use hand signals or two-way radios to maintain effective communication between the driver and the ground crew.
Use proper unloading techniques
To unload the dumpster safely, position the vehicle as close to the designated area as possible. Activate all necessary safety mechanisms, such as stabilizers or brakes, and engage any hydraulic systems present on the dumpster to facilitate controlled unloading.
Gradual unloading
Employ a gradual unloading process by lowering the dumpster slowly and evenly. Avoid sudden movements or jerks that could destabilize the load or cause injuries to workers nearby.
Inspect surroundings
After unloading, inspect the area to ensure no debris or waste materials are left behind. Clean up any spills or loose items promptly to maintain a tidy and safe work environment.
Proper loading and unloading of dumpsters is critical for ensuring worker safety and preventing accidents or property damage. By following the guidelines outlined in this article, you can create a secure working environment while effectively managing waste disposal. Remember to always prioritize safety by using appropriate equipment, adhering to weight limits, and following local regulations for hazardous waste disposal. By doing so, you can promote a safer and more efficient waste management process for any project.
emphasizes the significance of adhering to safety protocols while handling dumpsters. By doing so, you contribute to creating a secure working environment and promoting efficient waste disposal in Memphis. Remember to consult local regulations and guidelines for specific requirements regarding waste management and disposal. Together, we can ensure a safer and more responsible approach to loading and unloading dumpsters, benefiting both workers and the community at large.
The Benefits of Renting a Dumpster
In today's fast-paced world, efficient waste management has become a crucial aspect of maintaining cleanliness, preserving the environment, and ensuring public health. Whether it's a small home renovation project or a large-scale construction site, proper waste disposal plays a vital role in maintaining order and sustainability.
Renting a dumpster has emerged as a popular solution for junk disposal, offering numerous benefits that contribute to streamlined waste management efforts.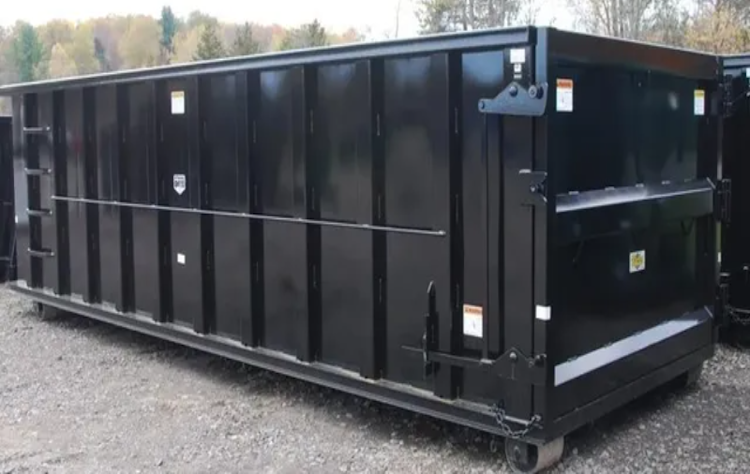 Convenience and Ease of Use
One of the primary benefits of renting a dumpster is the convenience it provides. Dumpster rental companies like Memphis Dumpster Rental Bros offer a hassle-free process, delivering the container to your location and picking it up once it's full.
This eliminates the need for multiple trips to the landfill or recycling center, saving both time and effort. Our dumpsters are available in various sizes to accommodate different project requirements, ensuring that you have ample space to dispose of all waste materials.
Efficient Waste Disposal
Renting a dumpster from us enables efficient waste disposal, especially for projects that generate significant amounts of debris. Whether it's a construction site, home renovation, or community event, having a designated container on-site allows for immediate disposal of waste materials.
This reduces clutter and minimizes the risk of accidents or injuries associated with loose debris. Additionally, having a centralized location for waste disposal promotes a cleaner and safer environment.
Compliance with Regulations
Proper waste management is subject to various regulations and guidelines set by local authorities of Tennessee. Renting a dumpster from us ensures compliance with these regulations, as dumpster rental companies are well-versed in waste disposal laws and requirements.
We can provide guidance on what can and cannot be disposed of in the dumpster, ensuring that you adhere to the necessary TN regulations. By renting a dumpster from us, you can avoid potential fines or penalties for improper waste disposal.
Environmental Sustainability
Renting a dumpster promotes environmental sustainability by facilitating proper waste sorting and recycling. We have partnerships with recycling facilities and waste management centers, enabling us to efficiently sort and dispose of different types of waste.
By using our waste management services, you can contribute to recycling efforts, reducing the overall environmental impact of your project. Our dumpster rentals also help prevent illegal dumping, as having a designated disposal container discourages improper waste disposal practices.
Cost-Effectiveness
Contrary to popular belief, renting a dumpster can be a cost-effective solution for waste management. Instead of relying on individual trips to the landfill or paying for curbside pickup services, a dumpster rental offers a flat rate for a specified period.
This will eliminate the need for multiple fees and additional expenses, providing a more predictable and budget-friendly option. Furthermore, the time and effort saved by having a dumpster on-site can translate into increased productivity and cost savings for projects with tight deadlines.
Enhanced Safety
Safety is a critical aspect of our waste management services, especially in construction or renovation projects. Renting a dumpster with us promotes safety by minimizing the risk of accidents or injuries.
With a designated container, workers can dispose of waste immediately, reducing the chances of tripping hazards or accidents caused by scattered debris. Additionally, having a central location for waste disposal ensures that waste is properly contained, preventing potential health hazards or pollution.
Renting a dumpster from Memphis Dumpster Rental Bros in Memphis offers a multitude of benefits for efficient waste management.
From convenience and compliance to environmental sustainability and cost-effectiveness, our services provide a comprehensive solution for all waste disposal needs. By embracing proper waste management practices through dumpster rentals, individuals and businesses can contribute to a cleaner, safer, and more sustainable Memphis.
✓ Servicing Memphis for over 20 years
✓ Quick and easy dumpster rental contracts
✓ Fast delivery and pickup
✓ Experienced and friendly staff
✓ Call 901-441-9203 now for a free quote!
✓ Largest inventory of dumpster sizes
✓ Locally owned family business
✓ Customer satisfaction guaranteed!